Our Remote Pilot Training
---
As a CASA-approved RPAS training provider, Remote Aviation Australia can offer the theoretical and operational (practical) training needed to obtain your remote pilot licence (RePL) and kick-start your drone career. Anyone can undertake our remote pilot training, even if you have never flown a drone before. Our RePL course involves:
Theoretical remote pilot training in the topics of: general aeronautical knowledge, RPAS systems, air law, flight planning, meteorology and human factors. It is a CASA requirement that RePL students pass a theoretical exam – our in-house RPAS exam has 50 multiple-choice/short-answer questions, with a minimum 70% pass mark. We offer free remedial tuition in the unlikely event you do not pass your exam the first time.
Operational (practical) remote pilot training providing five hours of RPA flight time to ensure you have the skills and confidence to safely and effectively fly.
Our flying sequences will give you the skills needed to pass a CASA Chief Remote Pilot ReOC assessment.
Once basic flying skills are mastered, we provide students with advanced flying techniques, such as how to improve your aerial photography.
You will fly our fully-insured DJI Phantom and large DJI Inspire multirotor RPA, or aeroplane (fixed-wing) RPA.
We provide a number of pre-flight videos and training packages online for you to review prior to flying (available to all students, not just our online participants).
Aeronautical Radio Operators Certificate (AROC) training. An AROC is required in certain circumstances for operations near aerodromes or in controlled airspace. CASA require you to pass a short, multiple-choice exam, which we conduct in-house. You are also required to pass an English Language Proficiency (ELP) test for an AROC to be issued – we also complete this as part of your course. All CASA fees for the AROC and ELP are included in your course costs (most training schools require the student to pay these in addition to their RPAS course fee). Although not mandated by CASA, your professional remote pilot training is incomplete if you do not obtain an AROC qualification.
Theoretical and practical training is usually split during the first four days of the course. The RPAS and AROC exams are then conducted on day five, together with any additional flying required due to weather interruptions etc.
We also provide you with a training pack, which includes a full set of course notes and access to our online training.
---
Remote Pilot Training Objectives
---
As a leading RPAS training provider we will always provide:
Expert advice – our instructors are industry leaders with thousands of hours of flying manned and unmanned aircraft.
Flexible training options – because everyone learns differently and not everyone can attend a full-time training course.
Excellent value training – everything you need to become certified at a very competitive price. Flexible payment options are also available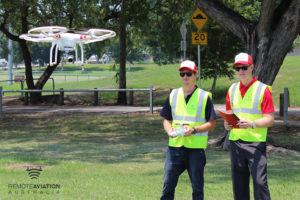 Remote Aviation Australia was founded by two experts of the manned and unmanned aviation industry – Ryan McMahon and Andrew Learmonth. Both are experienced drone operators, aircraft pilots and flying instructors, and have conducted many RPAS training courses in recent years. Both have Grade 1 Flying Instructor Ratings, which is the highest grade of rating requiring significant flying experience, and are therefore skilled in facilitating adult-learning. Both Ryan and Andrew have successfully helped other RPAS training organisations design and develop their remote pilot training courses in the past, and assisted many operators with their ReOC applications. Further information about Ryan and Andrew can be found on the "Our Instructors" page.
Anyone who undertakes training with Remote Aviation Australia will be at a significant advantage due to the expert training and advice they will receive from our instructors. No matter the purpose, whether you fly for fun or commercial reasons, operators and pilots of all unmanned aircraft operate within Australia's national aviation system and must therefore operate in accordance with CASA's regulations. Our instructors have operated in this environment for years and will give you the expert, yet practical, advice that most other training providers are unable to offer.
In addition, Remote Aviation Australia has partnered with the Aviation Theory Centre, who are Australia's leading provider of aviation textbooks. Remote Aviation Australia have exclusive access to the Aviation Theory Centre's database of training material, which, when combined with our own content, ensures our students receive the best theoretical training possible. Not only will this help you pass your RPAS and AROC exams, but the knowledge will help you remain safe, legal and efficient in the future.
By enrolling in an RPAS training course you are making a significant financial investment. Don't leave your remote pilot training in the hands of hobbyists or instructors that have never actually operated remote or manned aircraft commercially. Ensure you train with industry experts.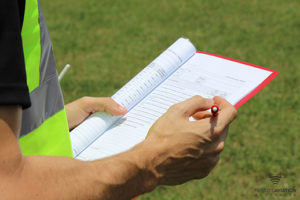 We understand life is hectic. Most people wanting to undertake RPAS training have full-time jobs, or family/social commitments that make sitting in a classroom for a week impossible. However, we also know some people love the classroom environment and need it to succeed. This is why we offer flexible training options.
As discussed previously, the RePL course takes approximately five-days. For those that would prefer lecture-based theoretical training and to complete everyone in one hit, we recommend our five-day (full-time) course. We run this course at various times throughout the year and at various locations, including regional centres. We also give our full-time students access to our online training to assist their learning.
For those that can't make a full-time course, please consider our online (external) training option. Instead of participating in lecture-based learning, our theoretical training can be completed online at a time that suits you. We will also provide you with the contact details of our instructors so you can email, phone or Skype them and discuss anything that requires clarification.
All that is left is to complete your operational (practical) training, then pass the exams. We will give you three months access to our online training (this can be extended if required), and you simply advise us what operational training days you'd like to complete your practical flying.
We offer multiple operational training days throughout the month – please see our Courses page for options. If there are no dates listed that suit you, please contact us and we will work out a solution.
Those completing the full-time course also have the option to 'split' their training and complete the operational training at a later date. Please contact us if you need to arrange this.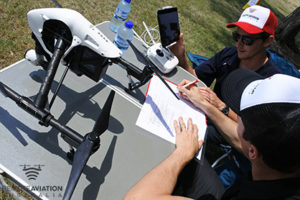 We admit it – we will not be the cheapest RPAS training on the market. But we are far from the most expensive and believe we are actually the best-value training provider available.
Training is an investment, and the first thing to consider is the quality of the training you receive. As discussed, our instructors are industry experts and will give you thorough, yet practical, training and advice. There are some very cheap and nasty courses on the market that will rush you through your training – think carefully about how you want to spend your money.
A key consideration is what are you are actually getting for the cost of your training? Our training course includes:
All theoretical training – either lecture-based or online;
All operational training – five hours flying actually RPA (not simulators), conducted in our fully-insured aircraft;
An Aeronautical Radio Operators Certificate (AROC).

Many providers do not offer the AROC, or charge extra for it. We don't charge extra – it's included as part of the course.
Obtaining your AROC is vital for anyone serious about their career. For example, if an RePL holder does not have, as a minimum, an aeronautical radio operator certificate, they cannot fly RPA weighing 2kg or more in controlled airspace, no matter the height of the RPA. Restrictions like this will limit the jobs you can complete and make you uncompetitive as an RPA pilot.
To obtain an AROC you need to pass the AROC and English Language Proficiency (ELP) exams – both are completed during your training, and there is no extra cost.

Our training pack – we will provide you with the following:

A full set of course notes
A visual terminal chart to assist your future flight planning
A bunch of other goodies include a high-visibility vest, lanyard and cap

CASA fees – we cover CASA's fee for your RePL and AROC application.
We also offer group discounts if there are four or more participants. Contact us for a negotiated rate.
RePL course info & pricing
Want to fly with us? Book your spot